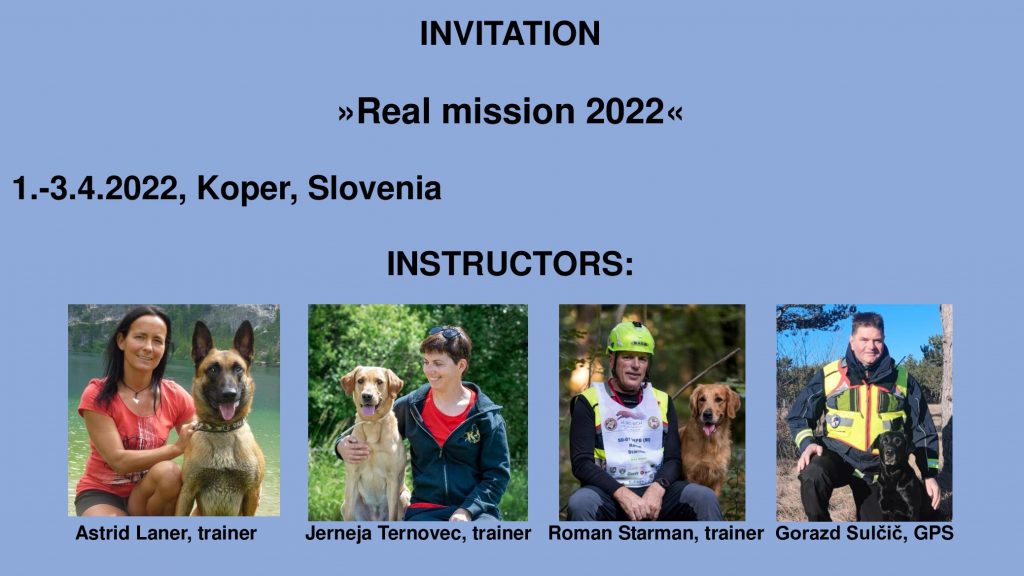 Organizer: DRP Burja and Pasja šola Burja
Date: 1st April – 3rd April 2022
Location: Lovska družina Podgorje, Podgorje 71, 6216 Podgorje, Slovenia ( 45.5379029,13.9485142 )
We will organize training for rescue dog handlers in preparation for the international "Real mission" test. The purpose of the test is to prepare dog handlers for the test according to the international program. After their implementation, participants will be able to evaluate the work of other participants with the classifiers.
Number od participants: max 15
Classifiers: the instructors will be the official IRO Classifiers: Astrid Laner, Jerneja Ternovec and Roman Starman. Gorazd Sulčič will prepare GPS exercise.
Program:
1st April 2022 at 18.00: arrival, registration,  dinner, discussion about the way of work. After dinner, the program begins.
3rd April 2022 at 09.00: completition of work
Price: for participation with a dog is 180 eur
The price includes:
– dinner on arrival on 1st April 2022
– organization, preparation of work sites, Classifiers, payment of figurants …
Accommodation and food
During the test, participants must take care of their own nutrition and accomodation. It will be possible to sleep for free in the base, bringing your own bed and sleeping bag. Outside the base there is place for the tent or camper.
Transport to the sites must be provided by each participant. In WhatsApp application will be created group, through which participants will receive all instructions about the time and location of the search, as well as learning material.
The work sites will be loaded into a GPS device and will not be physically marked, so the basic knowledge of using GPS is a condition.
The following tests will be performed:
– 2x search in sector (cca 60 000 m2)
– night search along the path (approx. 3 km)
– renewal knowledge of veterinary first aid and GPS usage (working with instructor)
To register: send an e-mail to drp.burja@gmail.com with information – name and surname of the participant, tel. number, breed and name of the dog, age of the dog. Passed exams are not a condition for participation.
Please do not send registrations form for dogs that could be dangerous to figurants!
You are invited to the test
Roman Starman
President of the DRPB
Proposed accommodations: